Dr. Bani A. Sarma, MD, FACOG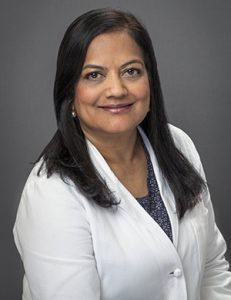 A native of Chennai (Madras), India, Dr. Bani A. Sarma was raised in the suburbs of Philadelphia. After completing her undergraduate studies and medical school at Temple, she completed her medical training at the Pennsylvania Hospital and Lehigh Valley Medical Center.
Dr. Sarma is well known in the community and is conversant in several Indian languages including Hindi and Telugu. Her natural warmth and dedication makes her very popular with our patients.
Dr. Bani A. Sarma Professional Qualifications:
UNDERGRADUATE EDUCATION:
Temple University- College of Liberal Arts, B.A. Biology
MEDICAL SCHOOL:
Temple University School of Medicine,
INTERNSHIP:
RESIDENCY:
Lehigh Valley Hospital -Obstetrics & Gynecology
BOARD CERTIFICATIONS:
Obstetrics and Gynecology
MEMBERSHIPS:
Board of Directors of Lifeline Medical Associates
LANGUAGES:
HOSPITAL AFFILIATIONS:
University Medical Center at Princeton
Capital Health System
PROFESSIONAL ORGANIZATIONS:
American College of Obstetricians & Gynecologists – Fellow
American Medical Association
PUBLICATIONS:
Nyirjesy, P., Sarma, B., Lorber, B., Grody, M.H.T., The Perplexing Problems of Persistent Vaginitis: The First Years' Experience with a Referral Center, XIIth World Congress of International Society of Vulvar Disease, Quebec, Canada. 1993
Hospital Profile:
If you would like to arrange an appointment with Dr. Sarma, click here to contact us today.