Dr. Kenneth Hann-Kim Ung, MD, FACOG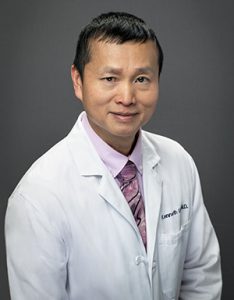 Dr. Kenneth Hann-Kim Ung is specially trained in robotic-assisted surgery and is an active member of the Penn Medicine Princeton Health Program. He has extensive experience performing minimally invasive gynecologic surgeries in the Philadelphia and New Jersey area.
Staying at the forefront of surgical research and technology has been a top priority for Dr. Ung. He understands that an essential part of caring for women is providing leading-edge, evidence-based and safe gynecology surgery. As part of his mission to provide the least invasive, most effective and comfortable treatment options to his patients, he continually seeks out new, minimally invasive surgical approaches. Dr. Ung offers a personalized approach to patient care ensuring his patients receive the highest levels of attention and service.
Dr. Ung graduated from Temple University Medical School and is Board Certified in Obstetrics and Gynecology. He was the chief administrative resident at Albert Einstein Medical Center in Philadelphia. He continually attends training and is an American College of Obstetricians & Gynecologists Fellow.
Dr. Kenneth Hann-Kim Ung Professional Qualifications:
UNDERGRADUATE EDUCATION:
University of Pennsylvania, B.A, Chemistry
MEDICAL SCHOOL:
Temple University School of Medicine
RESIDENCY:
Albert Einstein Medical Center (Philadelphia)- Obstetrics and Gynecology
BOARD CERTIFICATIONS:
HOSPITAL AFFILIATIONS:
University Medical Center of Princeton at Plainsboro
Capital Health System – Hopewell and Regional
PROFESSIONAL ORGANIZATIONS:
American College of Obstetrics & Gynecology – Fellow
HONORS AND AWARDS:
PENNCAP Academic Achievement Award -University of Pennsylvania
Dean's List- University of Pennsylvania
Measley Award- Temple University School of Medicine
FADHPS Award- Temple University School of Medicine
ACOG Resident Reporter- Albert Einstein Medical Center
Hospital Profile:
If you would like to arrange an appointment with Dr. Ung, click here to contact us today.