Midwife in Princeton, NJ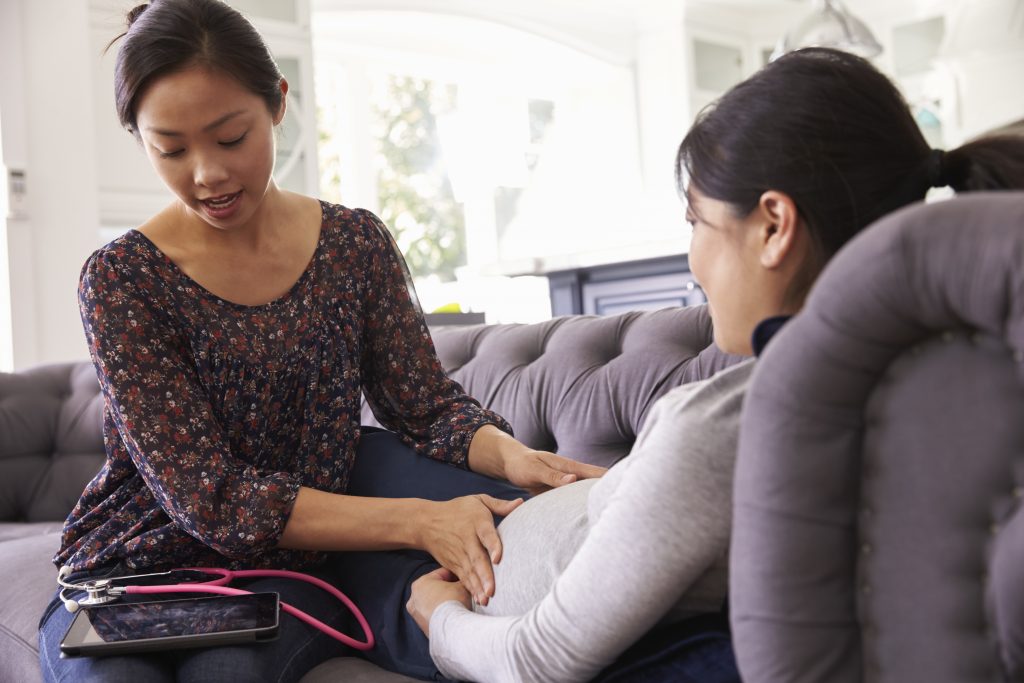 Reach out to Delaware Valley OBGYN for support from a midwife in Princeton, NJ. Our midwives focus on individualized care and empowerment through knowledge and support. Our facility is conveniently located right here in Princeton, making your visits easy and convenient.
The staff at Delaware Valley OB/GYN focuses on providing wellness through education, support, and reproductive counseling. Using the latest technological advances and the most up to date medical information, we take a compassionate approach that spans a woman's reproductive through post-menopausal years, for high quality innovative health care. Our team of certified physician specialists, nurse midwives, and support staff combines their expertise to bring you the most advanced care possible, in an environment focused on your comfort and relaxation.
The staff at Delaware Valley OB/GYN has been great allies for families who need an advanced option for all female healthcare needs. These services include general health check-ups and physical exams; pregnancy, birth, and postpartum care; well-woman gynecologic care; and treatment of sexually transmitted infections.
The members of our Midwife Team are Certified Nurse Midwives (CNMs) – registered nurses with graduate education in midwifery. They have all completed post-graduate education from a program accredited by the Accreditation Commission for Midwifery Education (ACME). They also have passed the national certification exam of the American Midwifery Certification Board (AMCB).
Services of YOUR MidwiFE in Princeton, NJ
Midwives Have a More Holistic Approach to Healthcare.
For those who are expecting, births overseen by CNMs usually have less intervention – such as continuous electronic fetal monitoring, epidurals, and episiotomies – often with better outcomes for women and their babies. 
Midwives Can Help with Family Planning.
A CNM can be a great resource before you have children by assisting with family planning. CNMs also provide contraceptive counseling and services, including prescriptions for oral contraceptive pills, IUD insertions and removals, and insertion and removal of hormone-releasing birth control implants.
Certified-Midwives Are Qualified to Care for Women Long-term.
Many women opt for a midwife because they feel their midwife is someone who is willing to invest personal time and attention in their needs. The midwife does a complete physical exam including a vaginal exam, takes a PAP smear, breast exam and will discuss relevant health topics with you such as family care and nutrition. 
Our Certified Nurse-Midwives Are RNs, Have A Master's and/or Doctoral Degree in Nursing, and National Certification and Licensure in the State in Which They Work.
This preparation qualifies our CNMs to perform examinations, order lab tests, prescribe medications, etc. So, pregnant or not, they are a great resource for your overall family care. If a pregnancy occurs, you can rest assured they are trained to assist you in having the most healthy and happy pregnancy and birth that is possible. And, CNMs have relationships with physicians in case there is a high-risk situation.
They Offer Access to Additional Holistic Resources.
Another great reason to seek midwifery services is the opportunity to tap into their network. CNMs are often entrenched in their communities, and can offer great recommendations on other natural, holistic providers. They regularly work with massage therapists, acupuncturists, doulas and yoga therapists.
Testimonials
"I have been using Del Valley for many years and the staff is always knowledgeable, caring and utmost professional."
"My obgyn is Dr. Goyal. She is very nice. Give proper time to answer my queries. Their staff is awesome. I have been there several times during my pregnancy and didn't encounter any problems. I highly recommend this facility. They really maintained it well."
"All the midwives and doctors here are professional and caring. Receptionists are friendly. Danielle helped me with delivery and she was amazing. I am very thankful to this practice."
If you are interested in seeing more information about our practice and our services, as well as helpful knowledge for women, have a look at our Frequently Asked Questions, our blog and news page, and see our page regarding the Family Medical Leave Act here. We're happy to answer any further questions you have when you set up your initial appointment.
You can read more about our staff and physicians who work with our clients here. Get the best possible support from a midwife in Princeton, NJ, by contacting us here. We hope to hear from you soon.