Midwives in Mercer County New Jersey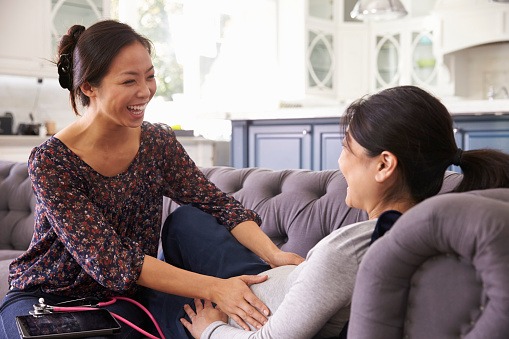 Delaware Valley OB/GYN is your professional choice when seeking midwives in Mercer County New Jersey. We are based right here, with two conveniently located offices in Lawrenceville and Princeton, and we offer certified nurse midwifery services to residents throughout the region.
If you are an expecting mother, you may be exploring options for how to have your baby…having a natural birth, giving birth to your child at home, or more options regarding drugs for pain. You may also be interested in the difference a midwife makes in having a healthier child at birth.
A Certified Nurse Midwife (CNM) is a highly educated professional that has acquired the title through education in both nursing and in midwifery, and is focused on the independent management of women's healthcare. At Delaware Valley OBGYN, we offer among the best-known midwifery practices n the state of New Jersey, and we are dedicated to continuing that tradition.
In our practice, we added our midwifery program to create another dimension of care choices for our patients. In our midwifery services, we strive to help provide wellness through education, emotional support, and reproductive counseling. We offer a holistic approach to maternity care, to help women have the most satisfying prenatal and birth experience possible.
Midwives For Mercer County Residents
Our nurse midwives work closely with you to help make educated decisions about your pregnancy care and delivery. We empower you through this profound experience, by listening to your desires and helping to create the birth experience of your vision. When needed, we also have the support of our partners in our OB/GYN practice.
Our midwives also provide pelvic and physical exams that are designed to promote women's health and understanding of their bodies. We focus on your dignity, and we provide a supportive space for survivors of sexual abuse.
In addition, there are reasons to seek our midwifery programs even if you aren't expecting. Our midwives assist you with a holistic approach to health care, including the physical and emotional changes you are experiencing as you seek to expand your family. We can help you with family planning and contraception, personalized physical exams, prescriptions for your medical needs, and referrals with massage therapists, acupuncturists and yoga therapists.
To find out more about our midwifery programs and how we can help, call us today or use this online form to schedule an appointment. See why we are an established and preferred choice for midwives in Mercer County New Jersey. At Delaware Valley OB/GYN, we are dedicated to the highest quality care, for all of your women's health needs.