OBGYN in Levittown Pennsylvania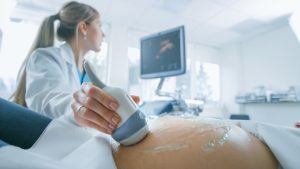 From our two locations, in Lawrenceville NJ and Princeton NJ, Delaware Valley OB/GYN & Princeton Midwifery is your convenient choice for an OBGYN in Levittown Pennsylvania. We offer first class women's health care services, in a compassionate and relaxing environment.
At Delaware Valley OBGYN, we are focused on treating all of our patients with dignity and respect. Our mission is to provide the best possible care in a comfortable setting, for women from reproductive through post-menopausal years, using the latest technology and medical information available.
Services of OBGYN in Levittown Pennsylvania
Our staff provides complete OBGYN services to Levittown residents, including:
Obstetrics. Whether you are already pregnant or planning to be, we can guide you through every stage of pregnancy, from pre-natal care to delivery, including high risk pregnancies. We'll deliver your baby in the beautiful setting of the Penn Medicine Princeton Health Center for Maternal and Newborn Care, with epidural pain relief as needed and avoiding C-sections however possible.
Gynecology. While we understand that women don't look forward to gynecologist visits, it is a necessary part of your health. Our office is available for your annual visits, Pap smear tests, and counseling for your birth control and reproductive needs. We are especially sensitive to the anxiety of teens in their first visit, and we work to make the experience as relaxing as possible. Our office can also help treat women with menopause symptoms later in life.
Midwifery. We employ several qualified midwives on staff that take a holistic approach to your maternity care, so that you can enjoy the safest and most gratifying birth experience. Our nurse midwives will educate you fully on your health and help you make informed decisions.
Both of our conveniently located offices accept most all major insurances, including the NJ Healthcare Exchange (Obamacare). Several physicians on our staff are fluent in multiple languages, such as Russian and Hindi.
Let Delaware Valley OB/GYN & Princeton Midwifery be your destination for an OBGYN in Levittown Pennsylvania. Contact us today to arrange an appointment. We take the extra steps to meet your health needs.