Central Jersey Midwives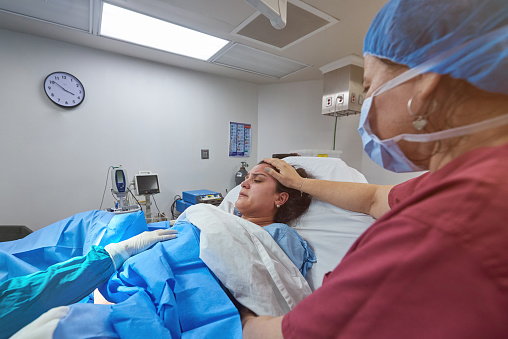 Delaware Valley OB/GYN offers Central Jersey midwives. From our two locations in Lawrenceville and Princeton, our midwives provide a holistic approach to women's health and wellness, through education, support and reproductive counseling.
Delaware Valley OBGYN understands just how vital and important your pregnancy and birth is to you and your baby. We understand your need for emotional support, and your desire to have nothing but the best care throughout your pregnancy and beyond.
We strive to provide maternity care services and offer women the safest and most satisfying prenatal and birth experiences possible.
Services of Central Jersey Midwives
Our certified nurse midwife (CNM) program provides multiple services to Central Jersey women:
OB Services. We develop a pregnancy and birth plan that is both personalized for your needs and provides you with empowerment over the experience. Our nurse midwives will work closely with you to help you make informed decisions about your prenatal care and your baby's delivery. We also work closely with our medical partners, and we have the support of our professional OB/GYNs in our practice as needed.
Gynecology Services. We understand your desire to make your gynecologist visit comfortable, minimally invasive and as stress-free as possible. We place an emphasis on preserving your dignity in the privacy and comfort of our office, and we hold a compassionate and supportive space for survivors of sexual abuse.
Holistic Healthcare. Even if you aren't pregnant, there are multiple reasons to work with our nurse midwives. We can assist you with family planning including contraceptive counseling regarding oral contraceptives and IUD insertions. We also provide complete care for women, including vaginal and breast exams, and discuss relevant health topics. We can even offer you referrals for massage therapists, acupuncturists, and yoga therapists in our network.
These services are provided in our efforts to maintain our mission as your partner in health: It is our intention to assist you with the highest level of professionalism and personal attention, so you may rest assured knowing that our staff will go the extra mile to meet all your medical needs. Our goal is to offer each patient a unique and gratifying experience.
Our practice care model for women includes following the "Standards of Practice" according to the American College of Nurse Midwives (ACNM), and we practice by formal protocols that have been developed in collaboration with the Department of Obstetrics and Gynecology. Our midwifery techniques have proven to be safe while offering the vital support necessary to the child-birthing experience.
Delaware Valley OBGYN has multiple Central Jersey midwives on our staff who are here to provide your personalized care and who will invest personal time and attention to your needs. We accept most all major healthcare plans. Call us today or use this online form to request an appointment at any of our Mercer County Locations.
Serving: Mercer, Burlington, Bucks,