Is Choosing a Midwife Right for You?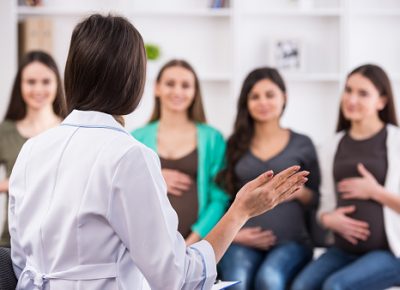 We are one of the Princeton area's leaders in establishing a model of care using both the skills of both the midwife and those of physicians in a collaborative manner to produce the best outcomes for our patients and their families. Our midwives are highly educated and trained medical professionals who have studied and graduated from some of the most respected formal education programs in the country. They are able to be designated as Nurse Midwives only because they have successfully completed a rigorous national certification examination.
A Midwife Offers an Elevated Model of Care
Our midwives are specialists in women's health. Alongside our physician experts and support team, they provide primary and reproductive care to women of all ages. Midwives have particular expertise in normal pregnancy, labor, and delivery. Scientific studies have shown that care under a midwife significantly decreases the risk of medical interventions, including cesarean delivery. Our midwives do an extraordinary job caring for the patients in our practice.
Midwives and Childbirth
At Delaware Valley OB/GYN, we recognize that childbirth is a natural phenomenon and that most pregnancies are healthy ones. There are some pregnancies that do need extra medical attention and care. Our midwives work collaboratively with our physicians to recognize when a patient needs that extra attention. When our physician must assume a lead role due to the degree of increased pregnancy risk status, our midwives continue to participate in physical care, counseling, guidance, teaching, and support of our patients. It is always our intention, for our midwives and physicians to apply their expertise and to work jointly when caring for women with special medical needs.
Midwives and Gynecology
Additionally, our Nurse Midwives are a great option as providers for gynecologic care. Here are five reasons to consider a Nurse Midwife for gynecologic care:
Midwives Have a More Holistic Approach to Healthcare
In general, nurse-midwives tend to have more time to answer all your questions. They can help you learn about the physical and emotional changes you experience as you prepare for your expanding family or with your general care.For those who are expecting, births overseen by CNMs usually have less intervention – such as continuous electronic fetal monitoring, epidurals, and episiotomies – often with better outcomes for women and their babies. Studies have clearly shown that women using CNMs have much lower rates of cesareans.
Midwives Can Help with Family Planning 
A CNM can be a great resource before you have children by assisting with family planning. CNMs also provide contraceptive counseling and services, including prescriptions for oral contraceptive pills, IUD insertions and removals, insertion and removal of hormone-releasing birth control implants.
Certified-Midwives Are Qualified to Care for Women Long-term
This is just like an annual exam with a gynecologist. The midwife does a complete physical exam including a vaginal exam, takes a PAP smear, breast exam and will discuss relevant health topics with you such as family care and nutrition. Many women opt for a midwife because they feel their midwife is someone who is willing to invest personal time and attention in their needs. Certified midwives can also assist women as they enter menopause and face hormonal issues.
Certified Nurse-Midwives Are RNs, Have A Master's and/or Doctoral Degree in Nursing, and National Certification and Licensure in the State in Which They Work
This preparation qualifies them to perform examinations, order lab tests, prescribe medications, etc. So, pregnant or not, they are a great resource for overall family care. If a pregnancy occurs, you can rest assured they are trained to assist you in having the most healthy and happy pregnancy and birth that is possible. And, CNMs have relationships with physicians in case there is a high-risk situation.
They Offer Access to Additional Holistic Resources 
Another great reason to become connected with a nurse-midwife is the opportunity to tap into their network. They are often entrenched in their communities, and can offer great recommendations on other natural, holistic providers. They regularly work with massage therapists, acupuncturists, doulas and yoga therapists. Don't hesitate to ask for referrals whether you are expecting or not.
Midwife Appointments at DelVal OB/GYN
Giving birth is one of life's most wonderful and amazing events. The entire team at Delaware Valley OB/GYN considers it a privilege to be entrusted with assisting women in having a healthy pregnancy, birth, and newborn. You can schedule an appointment with a midwife just like scheduling an appointment with a physician at our Practice HERE. And, our midwives participate in OB call for deliveries 24/7.
This is an added dimension of choice provided to you for convenience and satisfaction.