October Breast Cancer Awareness: Now is the Time to Schedule Your Annual Exam!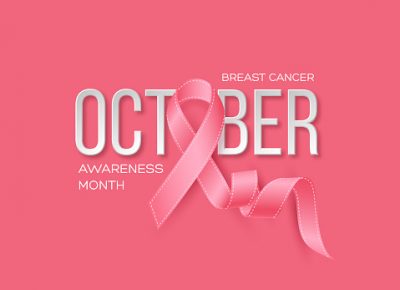 Temperatures are falling. Pumpkin is appearing in everything we eat and drink. And this is the month that we wear pink to recognize that it is Breast Cancer Awareness Month.
While breast cancer articles and events are everywhere. What does breast cancer mean for you as an individual? It's a scary thought and all too many women assume that it won't happen to them. Fact is though, every two minutes a woman is diagnosed with breast cancer in the US. And – it is the most common cancer for women worldwide.
So, if you haven't already, educate yourself about your risk. Get a medical check-up. And, if you need one, a mammogram. It might save your life.
Here are some Breast Cancer Awareness facts:
Female breast cancer represents 15.2% of all new cancer cases in the U.S.
1 in 8 American women will develop breast cancer in her lifetime.
Although far rarer (the risk is only 1 in 1000), an estimated 2,670 men will be diagnosed with this cancer this year.
The disease takes the lives of more than 40,000 American women each year and has directly or indirectly touched almost all our lives.
Education, fundraising and research has not resulted in a cure.
Early Signs of Breast Cancer
Early signs of breast cancer can be a lump in a breast, a painful breast or armpit or a discharge from the nipple. Even if none of these symptoms present themselves, a doctor should be visited to be sure. A doctor will most likely perform a manual exam and send you for a mammogram. A mammogram examination is painless and only takes about 10-20 minutes.
If any of these symptoms do present themselves there's no need to panic. The pain can be a sign of a cyst or the lump can be benign. It's always better to be sure by having a medical expert examine you.
Risk Factors for Breast Cancer
All women are at risk for breast cancer. Increased risk factors include a family history of cancer, atypical hyperplasia, delaying pregnancy until after age 30, no children or no breast-feeding, early menstruation (before age 12) late menopause (after age 55), current use (in the last 10 years) of oral contraceptives, more than 4 years of hormone replacement use, postmenopausal obesity, alcohol consumption, exposure to second-hand cigarette smoke, low physical activity and exposure to radiation.
These and other risk factors can have varying effects on the likelihood of developing breast cancer. It is important to remember that all risk factors are based on probabilities, and even someone without any risk factors can still get breast cancer. Proper screening and early detection remain the best weapons against mortality associated with this disease.
Scheduling an Annual Exam and Mammogram
The risk increases with age. That is why it is very important for all menopausal women to get regular mammograms.
A mammogram is a screening test which uses special X-ray images to detect abnormal growths or changes in breast tissue.
Mammography is your best defense because it can detect the disease in its early stages, before it can be felt during a breast exam. Research has shown that mammography can increase survival rates.
The American Cancer Society recommends women ages 40 to 44 should have a choice to start yearly screening mammograms if they would like. Women ages 45 to 54 should have a mammogram each year and those 55 years and over should continue getting mammograms every 1 to 2 years. You might need to start earlier if you have a family history and / or certain risk factors.
If you've never had a mammogram or you're overdue, schedule an appointment with one of our women's health experts for an evaluation.
Health Disclaimer. If you or any other person has a medical concern, you should consult with your health care provider or seek other professional medical treatment. Never disregard professional medical advice or delay in seeking it because of something that have read on this blog or in any linked materials.